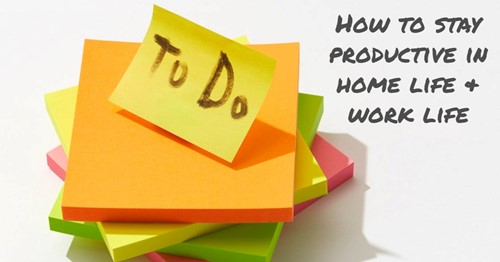 When you work from home, productive tasks seem to be part of the norm. Many remote workers may even talk about how much more work they get done at home versus being in an office space.
However, even with your office comfortably nestled within your home, there are still a few hurdles that working remotely can present, such as not having enough time to complete home tasks. In fact, some remote employees have reported that it's easier to get sucked in to their remote work because it's easier to stay productive in a familiar environment.
So, how can you continue to work from home and stay productive in both your work life and home life? Here are a few quick and easy ways to help keep your work-life balance just that: balanced.
Make a to-do list
While it may seem counterintuitive to add another to-do list to your already stacked day, it can help you stay on top of the items that need to be done at home. Just as you'd create a list of things to get done for your job during your working hours, try instituting that same method into your home life.
If you happen to have a slew of household chores that have been waiting to be completed, create a list with the approximate amount of time it should take to complete each task. During your work breaks, select tasks that fit into that timeframe and complete them one by one.
By the end of your week, you'll be ready to enjoy your weekend with a lighter load and more relaxation time.
Remember your mental health
Keeping focus on your mental health while working remotely is imperative. When you feel extra strain or your focus starts to waiver, try taking a break outside. As you're out there, let yourself complete a few more chores, such as tidying your garden racks, cleaning up a play area or simply sitting and enjoying the fruits of a previous weekend's labor.
Taking small breaks and switching between work tasks and home tasks, such as prepping dinner or keeping the curb appeal neat, can help give different areas of your brain a break. Once you've given yourself that break, you may find it easier to get back to your normal work routine.
Plus, you've taken a few extra items off your list, giving you more time for yourself at the end of the day.
Delegate where you can
If you have others in the household with you, try delegating different chores to different people. You can either go room-by-room, or simply list out the tasks for others to do throughout the day and week.
Delegating can also break down larger household chores into smaller, more manageable tasks that you could even assist with during your workday.
If your home is your sanctuary alone, try making a few of those maintenance calls that have been sitting in your mental Rolodex. Sometimes making appointments for household maintenance and repairs can be just as daunting as actually performing the tasks yourself. However, making those calls on your work breaks is a great way to clear out the to-do lists.
These are just a few simple ways to keep your to-do lists under control while working from home. If you have the time during your workday, try these tips and notice how much extra time you have left over to enjoy your home over simply working and living in it.