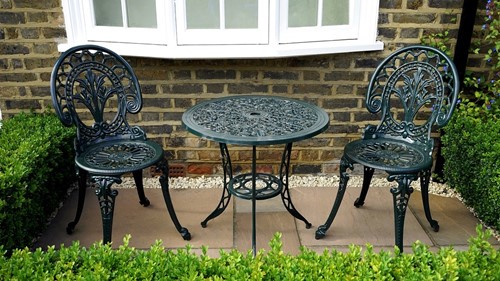 Image by MikesPhotos from Pixabay

The bistro table and chairs or patio set that welcomed your guests to gather outdoors and gave your porch a pop of color is now less than beautiful with its peeling paint and orange-brown crust.  Your outdoor space deserves a freshening up and the best way to go about it for both your budget and the environment is to rescue your already well-loved furniture.  Upcycling keeps old items that actually still have potential out of landfills, costs much less than purchasing a whole new product, and makes for an entertaining weekend project.  It also gives you free rein to choose a new finish for your old furniture.
Even if your chairs and table have already begun to rust, it is very possible to salvage them for further years of use.  If you like, take this opportunity to try a new color, or colors, of paint.
Cleaning and Preparation
Place furniture on a layer of old newspaper for easy cleanup of rusted paint flake and secure eye protection before you begin.  Find or purchase a tough wire brush and slough off any peeling pieces of rust.  For the remaining pieces that are more difficult to remove, use an electric sander.  Finish off the sanding with coarse sand paper for the bends and joints, folding the paper to get in the small places as best you can.  The rust color and appearance may still be visible, which is fine as long as you get most of the grit off and get the surface smooth.  
Next, clean the furniture to ready it for repainting.  Scrub with a vinegar and water mix or a baking sode and lemon juice combination, then clean with alcohol if needed.  Apply at least two coats of a primer specifically formulated to discourage rust, being sure the solution reaches all joints and crevices.  Let dry completely between each coat, preferably outside on a warm, dry day.  Any place you choose should be open and airy for safety. 
Painting  
The best choice of paint is a rust-proof outdoor formula.  Coat furniture with paint in a light layer, let dry completely, and then apply two to three more coats, letting dry each time.  Restore your set to the same color, try a new neutral shade to complement your space, or take a cue from the mismatched teacups and china trend and use two complementary colors for mismatched chairs.  Gently sand away any drips or pooled paint with sandpaper.
For the strongest protection from the weather and to put more protective anti-rust layers between your furniture and the elements, finish with a weather-resistant clear coat.